---
Kilogram Update
Category: Sc/tech
The definition of the 'kilogram' has got a global, technical makeover.
Until now, the kilogram derived its provenance from the weight of a block of a platinum-iridium alloy housed at the International Bureau of Weights and Measures in France.
All other prototypes that served as national reference standards, including the one at New Delhi's CSIR-National Physical Laboratory (NPL), were calibrated to it.
On May 20, the kilogram joined other standard units of measure such as the second, metre, ampere, Kelvin, mole and candela that would no longer be defined by physical objects.
The measures are all now defined on the basis of unchanging universal, physics constants.
The kilogram now hinges on the definition of the Planck Constant, a constant of nature that relates to how matter releases energy.
'Kibble Balance' is a device that was used to measure the Planck Constant and thereby reboot the kilogram.
An updated kilogram doesn't mean that weights everywhere will be thrown off balance. For everyday measurements, consumers wanting to calibrate their instruments — whether it's for high-precision drug manufacturing or retail weighing machines — will continue doing it the same way.
The NPL itself will be relying on the kilogram maintained in the U.S.-based National Institutes of Standards and Technology to calibrate its one-kilogram weight.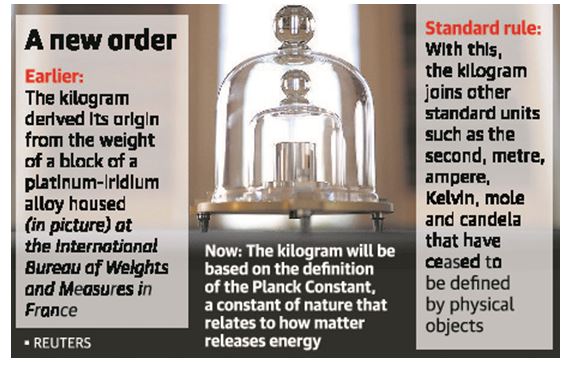 ---
Animal Migration
Category: Environment
A campaign has been launched to raise awareness on illegal wildlife trade.
The campaign has been launched by Wildlife Crime Control Bureau of India and UN Environment aimed at airports across India.
Tiger, Pangolin, Star Tortoise and Tokay Gecko featured in the campaign.
In India, illegal trade in wildlife has seen a sharp rise in recent years.
In the first phase of the campaign, Tiger, Pangolin, Star Tortoise and Tokay Gecko have been chosen as they are highly endangered due to illegal trading in International markets.
---
Wildlife Crime Control Bureau
Category: Environment
Wildlife Crime Control Bureau is a statutory multi-disciplinary body established by the Government of India under the Ministry of Environment and Forests, to combat organized wildlife crime in the country.
Under Section 38 (Z) of the Wild Life (Protection) Act, 1972, it is mandated to collect and collate intelligence related to organized wildlife crime activities and to disseminate the same to State and other enforcement agencies for immediate action.
---
Vayoshreshtha Samman
Category: Social sector
Nominations for Vayoshreshtha Samman- National Awards for Senior Citizens 2019 for individuals/institutions has began.
The Department of Social Justice And Empowerment had invited nominations for the awards on 17th April, 2019.
The Ministries/Departments of Government of India and their autonomous organistions/State Govts. or UT Administration can nominate the suitable individuals/institutions for the said Awards.
Eligible individuals/institutions may forward nomination for conferment of the award to the Department of Social Justice And Empowerment.
The Department of Social Justice And Empowerment as part of celebration of the International Day of Older Persons (IDOP) on 1st October every year has been conferring National Award – Vayoshreshtha Samman to eminent senior citizens and institutions involved in rendering distinguished services for the cause of elderly persons.
The National Awards are conferred by the President of India on the International Day of Older Persons i.e. 1st October every year.


---